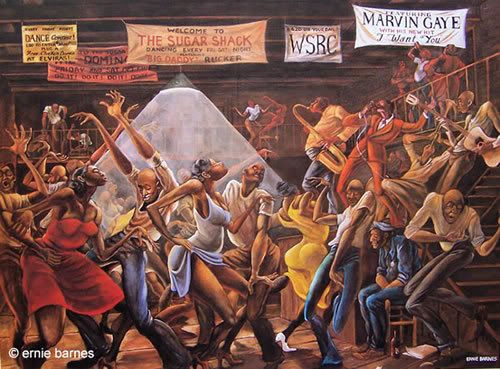 Yesterday started my 4 day weekend... it kinda sucks cause I wish my homegirl would've came to visit but life goes on... I ended up riding to the mall with two people I know... it pisses me off going out looking for clothes with somebody with no sense of personal style. I mean EVERY SINGLE STORE in the mall was filled with shirts with skulls and shit or picnic table plaid shorts.Wack ass dudes and those God awful monstrosities called "fusion jordans"




So I get home and get ready to go out to this club with lloyd... so before we leave his dog's wife who's down here calls him and is like I wanna go out with y'all. Earlier that day, her and her husband got in to a big ass argument cause he feels like she shouldn't have shit to complain about cause she doesn't have to work and just takes care of their son and about her finding out about him with other girls... so he told her "you know I was like this before you met me, so don't even act crazy!"
Which I feel is bullshit personally cause I'd lose my flucking mind being stuck in the house all day with a ball and chain, and I know that's how she feels, especially when he's out hittin' other chicks and goin out to sea for weeks at a time. So lloyd asks her dude if he minds her going out "she's a grown ass woman she can do what she want!"

So we get there and it looks like that painting for reals!
I danced with dudes wife when they played reggae and gave her a real nice "wine up" and I kinda felt bad but hmm not that bad. Sometimes when I'm the club just looking at the dance floor or picking some girl up, I'll think to myself "can you really honestly call THIS dancing?" and think about the club scenes in "high school high" or "walk hard"... but I still love it all the same...I got pretty winehoused off these $14 drinks called "fishbowls" it's like these goblets with cherrys and mandarin oranges and pure liqour with a little bit of pineapple, orange and grenadine I think, but writing about it now it seems hella fu-fu. But when I first started going there, I'd see dudes dressed like wicked thugs and D boys holding a damn fishbowl. Cause it gets you drunk bitch! Now cause mufuckas were droppin em they put 'em in these restaurant plastic coke cups. I really can't believe I left my phone in the car, but I'm not really trippin' too hard cause for 1. It's nice not having the ball in my court all the time. And 2. After this one girl told me her name really was panther I started telling girls my name was Picasso Jones or Dana. Why? I don't fluckin know...